The third round of rain has entered Gujarat state with a bang. Districts including Junagadh and Gir Somnath witnessed the appearance of Megharaja on Wednesday. Apart from this, in Jamjodhpur of Jamnagar district in Saurashtra, the roads were waterlogged with more than five inches of rain in two hours.
Heavy rain was also witnessed in Bhavnagar. In some districts of Saurashtra, due to torrential rains, rainwater overflowed from the streets to the National Highway.
ભારે વરસાદની અંબાલાલ પટેલની આગાહી જોવા માટે અહીં ક્લિક કરો
However, for Saurashtra, the doom is not completely averted. According to the forecast of the Meteorological Department, there will be rainy weather in the whole of Gujarat for the next 5 days. In which again heavy rain is predicted in Saurashtra.
As the monsoon system has become active over Gujarat, the chances of rainfall are being expressed across the state. In the state, chances of heavy to very heavy and very heavy rains are still expressed in parts of Saurashtra and South Gujarat.
The Meteorological Department has indicated the possibility of very heavy rains in Saurashtra. Apart from this, the Meteorological Department has also expressed the possibility that the system will affect North Gujarat in the near future.
Important links
હજુ 5 દિવસ ધ્યાન રાખજો ન્યુઝ જોવા માટે અહીં ક્લિક કરો
જિલ્લા વાઇસ આજે ક્યાં કેટલો વરસાદ પડ્યો જોવા માટે અહીં ક્લિક કરો
ભારે વરસાદના કારણે આ જિલ્લાઓમાં રજા જાહેર જોવા માટે અહીં ક્લિક કરો
ક્યાં જિલ્લામાં રેડ અને ક્યાં જિલ્લા માં ઓરેન્જ એલર્ટ જોવા માટે અહી ક્લિક કરો
આગામી પાંચ દિવસમાં ક્યાં કેટલો વરસાદ પડી શકે છે આગાહી જોવા માટે અહીં ક્લિક કરો
ગુજરાતમાં બારે મેઘ ખાંગા લેટેસ્ટ ન્યુઝ જોવા માટે અહીં ક્લિક કરો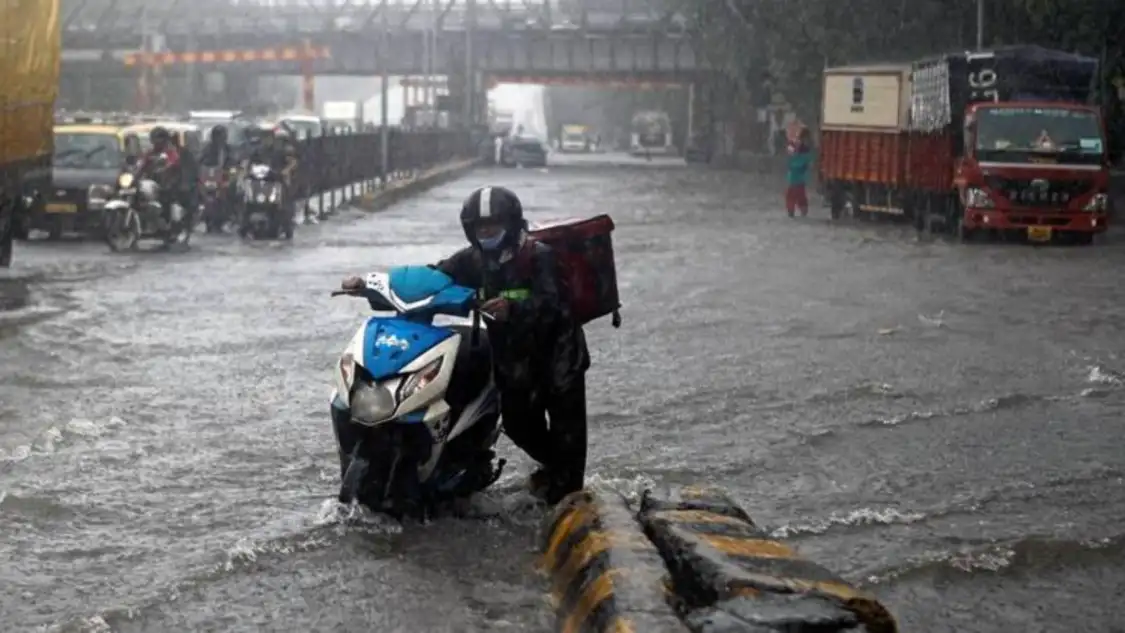 ગુજરાતમાં અરવલ્લી અને સાબરકાંઠાના કેટલાક ભાગોમાં અતિથી અત્યંત ભારે વરસાદની શક્યતાઓ વ્યક્ત કરવામાં આવી છે. 21મી જુલાઈએ વરસાદનું જોર સૌરાષ્ટ્ર અને દક્ષિણ ગુજરાતમાંથી ઘટીને ઉત્તર ગુજરાત તરફ જવાની સંભાવના વ્યક્ત કરવામાં આવી હતી.
The Meteorological Department has expressed the possibility of very heavy rain in some parts of Aravalli and Sabarkantha in North Gujarat. On 21st July, the intensity of rainfall was predicted to decrease from Saurashtra and South Gujarat and move towards North Gujarat.
Heavy rains are predicted in Ahmedabad and surrounding areas in the coming days. Heavy rains are predicted in Bhavnagar, Junagadh, Jamnagar, as well as Rajkot, Porbandar districts. On the other hand, heavy rain has been predicted in Kheda and Anand districts.
Apart from this, moderate rainfall is predicted in North Gujarat. Along with this, the fishermen have also been instructed not to plow the sea for the next 4 days.
Heavy to very heavy rains are predicted in Banaskantha and Patan on July 22. Chances of heavy rain have been expressed in Mehsana, Sabarkantha in North and Porbandar, Jamnagar, and Dwarka in Saurashtra.
The Meteorological Department has issued a warning for fishermen for the next 3-4 days. It is said that there will be strong wind in the sea, the sea may become rough. Wind speed will be 45-55 km per hour (gusting 65) over the entire Gujarat sea and there will be rain.